WELCOME!
I'm so glad that you have come to check out St. Mark's Preschool. We look forward to serving your family!
We offer a variety of developmentally appropriate classrooms programs for kids from ages 2-5 that will encourage and inspire both a love for learning and a love for Jesus.
Our webpage offers a peek in the door with program information and teacher biographies, etc. but we encourage you to contact us for a tour so that you can stop in and really get a sense of who we are here at St. Mark's!
St. Mark's Preschool Director
An Early Childhood Ministry of
St. Mark's Church
St. Mark's Preschool is a DCFS licensed preschool for children from ages 2-5 years old. Our vision is to welcome, love, and lead students and their families to Jesus. Our mission is to provide a joyful community that nurtures academic, social/emotional, physical and spiritual development.
Our early childhood programs admit students of any race, color, or national origin to all the rights, privileges, programs, and activities generally accorded or made available to students at the school. It does not discriminate on the basis of race, color, or national or ethnic origin in administration of its educational policies and other school-administered programs.
PHONE
(630) 584-4850
FAX
(630) 584-8646
EMAIL
LOCATION
ENROLLMENT
Enrollment for the
2021-2022 school year is open. Please call/email if you would like to schedule a tour.
UPDATED 1_8_20 NEW REGISTRATION FORM 2020-21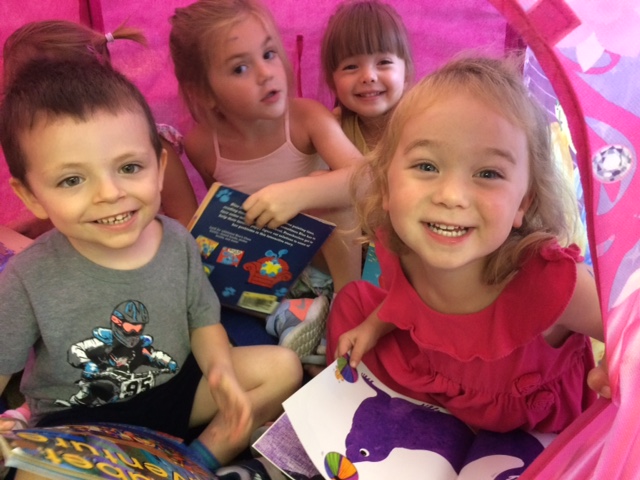 ENROLLMENT
New Student Enrollment for the 2021-2022 school year has begun.
To enroll your child please download an Enrollment Form, fill it out, and include the $100 enrollment fee made payable to
St. Mark's Preschool.
Please hand in completed forms to the Preschool office.
Call (630) 584-4850 to schedule a tour today.
PRESCHOOL CLASSES 2021-2022
MW 2s 9:00-11:15 (4.5 hrs/wk)
TTH 2s 9:00-11:15 (4.5 hrs/wk)
MWF 3s 8:45-11:15 (7.5 hrs/wk)
TTH 3s 8:30-11:30 (6 hrs/wk)
TTHF 3s 8:30-11:30 (9 hrs/wk)
MWF 4s 8:30-11:30 (9 hrs/wk)
M-TH 4s 8:30-11:30 (12 hrs/wk)
M-TH 4s 8:45-11:45 (12 hr/wk)
OPEN ENROLLMENT: First come, first serve basis contingent upon payment of a $100 non-refundable fee payable to St. Mark's Preschool due at time of registration.
EXTENDED DAY WEDNESDAY
Our Extended Day (ED) is a year long program that adds extra learning time to your child's preschool day. This program gives children the opportunity to share a mealtime with their friends, learn important social skills, and participate in fun theme based activities. During the class, children will engage in stories, songs, free play, gym / playground time, games, art, math, language arts and science. A longer preschool day provides parents more free time to run errands, schedule appointments, etc. and is a good preparation for students planning to attend part / full day kindergarten.
Wednesday 11:30-1:30 $60/mo. (2 hrs/wk)
Julie Zimmermann
Jennifer Auriemma
Jennifer Nolan
Lisa Blethroade
Thea Jankowski
Ann Cannon
Anna Hutchinson
Monique Davis